Blacklight 80 Ski
High-end SPEED touring ski below 1.000 g. For personal bests in high alpine terrain.
Delivery time appr. 2-4 workdays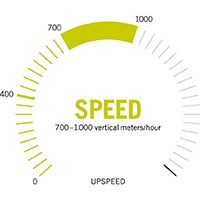 Speed
The new DYNAFIT Blacklight 80 weighs barely 1,070 grams (at 172 cm) with a waist of 80 mm. The name Blacklight combines the word "black" for its color, which also represents the 100% carbon construction, and the word "light," meaning it is a very light ski with luminescent character. This model meets the needs of fast, passionate ski tourers who seek a lightweight, easy-handling touring ski for technically demanding terrain. The Blacklight 80 has a 100% carbon top layer. UD is the abbreviation for the one-directional ("uni") arrangement of the carbon fibers. Compared to classic carbon construction, this engineering lends higher tensile strength and greater durability while maintaining a lower density. Furthermore, the Blacklight 80 comes equipped with a 100% Paulownia wood core. Thanks to its 3D construction, the ski lowers its total weight to reduce its swing weight in front of and behind the binding area. This ensures extremely stable ski handling despite its light weight. The rocker construction at the tip and tail and the sidecut are also adapted for each ski size, a unique feature in the ski touring market. This keeps the effective edge length equally proportional to each size, allowing it to function independently of the size. In order to guarantee the best possible power transfer from skier to ski, the ski is constructed with a full ABS sidewall. In addition, the base, i.e. the surface that contacts the snow, has a special racing grind to ensure you are the fastest one on the mountain.

3D Sidewall-Cap Construction

Race finish

Tip Rocker
| | 151 | 158 | 165 | 172 | 178 |
| --- | --- | --- | --- | --- | --- |
| Weight Size | 910 g | 960 g | 1010 g | 1070 g | 1140 g |
| Sidecut top | 113 mm | 114 mm | 115 mm | 116 mm | 117 mm |
| Sidecut middle | 77 mm | 78 mm | 79 mm | 80 mm | 81 mm |
| Sidecut bottom | 97 mm | 98 mm | 99 mm | 100 mm | 101 mm |
| Radius A | 14.5 m | 15.5 m | 17 m | 18.5 m | 20 m |
| Tip Rocker | 275 mm | 285 mm | 295 mm | 305 mm | 315 mm |
| Tail Rocker | 80 mm | 90 mm | 100 mm | 110 mm | 120 mm |
Ski Cores
Paulownia Speed Core